Co2mmunity project's  Helsinki-Uusimaa RENCOP expert group had it's 4th  face-to-face meeting in Helsinki on 27 November 2019. In the meeting, a group of 12 experts discussed:
Content for the draft of the Policy Paper for the Political Meeting in Tallinn in March 2020
Current challenges in Finland from the Policy Perspective of Renewable Community Energy: Legislation and forms of ownership, taxation, license requirement vs. own community.
Helsinki-Uusimaa RENCOP – What has been done in March-November on the subject of  catalyzing renewable energy projects into housing companies and next actions?
How to promote the development of community energy projects for aging apartment blocks?

Presentation of participants and related news.

Energy Grant of Finnish Ministry of Environment from the beginning of 2020 and catalyzing renewable energy projects by housing companies. How could RENCOP and GNF as it's coordinator help?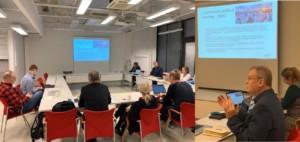 The represented parties at the meeting were GNF, City of Helsinki, Helsinki-Uusimaa Regional Council, University of Helsinki, Finnish Environmental Centre SYKE, Grapes Service | ESaas Oy, Nuuka Solutions Oy and Utuapu Oy.
Altogether the Helsinki-Uusimaa RENCOP at this moment involves 38 persons – diversely representing local public authorities, academia sector and businesses, providing services and technologies for renewable energy and/or community energy projects.
The main outlines from the discussions were:
Substance focus of RENCOP will be widened covering also solar collectors and exhaust heat (air and waste water)
One of the identified issues for the policy paper was incoherent permissions practices (for example geothermal heat pumps) in municipalities in Finland
Permission practice should be made fluent and economically feasible for potential renewable community energy investments
Collaboration with Smart Energy Transition and CORE projects will be enhanced
The next face-to-face meeting of the Helsinki-Uusimaa RENCOP will be arranged on 3 March 2020 (13:00-15:00) in GNF's office.
GNF is welcoming new members to the RENCOP!