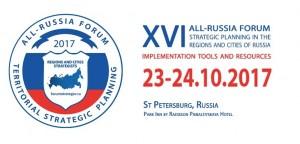 Green Net Finland will participate in the XVI All-Russia Forum Strategic planning in the regions and cities of Russia by representing the BALTIC CLEANTECH ALLIANCE and to discuss the new initiative Russian NTI GreenNet.
The Forum's mission is to promote sustainable socio-economic development of regions and cities of Russia by supporting public dialog on long-term development priorities, by creating and promoting the up-to-date standards of development management, and by forming an aligned view on territorial and strategic planning systems.
Green Net Finland will give a speech at the session "GREEN Vector of Technological Breakthrough: Implementation Tools for Sustainable Development Strategies of Cities and Regions" on 24 October. The session will address the following topics:
– Strategy of the priority project of the Ministry of Economic Development of the Russian Federation entitled Development of Innovative clusters – Leaders of Investment Attractiveness of the World Level, leaders' selection procedure, and recommendations for implementing a development strategy and road maps for clusters-leaders. – Action plan to form the national technological initiative in Russia based on the experience of the Green Net Finland, Finnish Cleantech Cluster. – The flagship international project "Sustainable Development Cluster 2030" aimed at implementing 17 SDGs in the Baltic Sea region and involving Russia in 2030 Agenda for Sustainable Development.
Green Net Finland's Ms. Evilina Lutfi will introduce the concept of BALTIC CLEANTECH ALLIANCE (BCA) as a platform for "triple-helix" cluster-to-cluster collaboration and BCA's approach to reach new target markets resource efficiently via creation of meta-clusters.
Green Net Finland and St. Petersburg "City Homeowners Association" (managing company of SPbCC) have signed a Memorandum of understanding on supporting the establishment of Russian National Technological Initiative GreenNet (Russian NTI GreenNet) at the Russian-Finnish SME Partneriat in Helsinki on 10 October 2017. This MoU will be an instrument for scaling the St. Petersburg experiences in cleantech sector development with triple-helix or cluster approach further to other regions of Russia. As a strategical focus of Russian GreenNet at this stage will be in increasing the ecological safety and resource efficiency in the urban environment.
At the session on 24 October, ideas will be exchanged on how already existing cluster-to-cluster collaborations, platforms, development projects and programmes could be implemented on a practical level, so that they generate real synergies.