The event "III SAINT PETERSBURG INTERNATIONAL CLUSTER CONFERENCE CLUSTERS OPEN BORDERS, The Eurasian path" was organised in St.Petersburg on 26 April 2018. Green Net Finland (GNF) took part into panel discussion led by National research university Higher School of Economics (Ozkan Saritas and Ekaterina Islankina).
This year the topic "The Eurasian path" opened a great opportunity for GNF to expand its cooperation network and to see and listen approaches and thoughts on national and regional development of such countries as Canada, China, India and Russion Federation regions outside North-West Russia.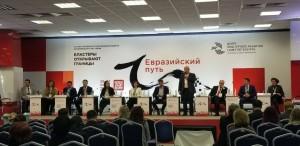 The event included interesting presentations and discussions including the identificaion of new collaboration leads and contacts.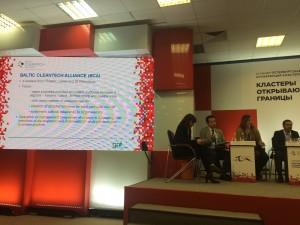 Evilina Lutfi (Business Development Director, Russia) represented Green Net Finland in the event. In the event she had a great opportunity to present personal and practical experiences on cluster-to-cluster collaboration based on experiences from Finland, St.Petersburg and wider from the BALTIC CLEANTECH ALLIANCE.  Due to particular focus of this year's event in Eurasia collaboration, Evilina shared recommendations on developing and implementing an international cluster-to-cluster collaboration with the focus on readiness and capabilities to meet and communicate with different cultures. She also stressed the importance of the dialog between public authorities, businesses and education. She mentioned that in international context of cluster-to-cluster interactions it is crucial to define common understanding of focus for targeted collaboration and capability to keep constructive dialog with understanding of local specialities. This is important specifically when building up a coopartion aiming at improvement of life quality of people and environmental business.
More information on event:
http://spbcluster.ru/en/events_calendar/iii_saint_-petersburg_international_cluster_conference/ (in English)