Energy-as-a-service various contract models and technical combinations (so-called hybrid systems) are a rising trend in terms of energy efficiency improvement and major repairing of residential properties – both in housing companies/associations and in publicly owned residential properties.
Examples of real estate company-level energy system business models are the ESCO, EPC and Leasing models. The general idea of these models is that the customer who acquired the system (housing company, municipal rental company) does not pay the price of the investment at the time of commissioning, but pays off in parts during the contract period. A common factor in all these models is that the system vendor and the investment funder (usually a different organization) share the responsibility for the project. Energy-as-a-service business models have gradually begun to be applied both in public sector places (eg schools, kindergartens) and in private housing.
One of the focuses of #Cata3Pult project is energy- and ecoefficiency of housing stock.
We organize a (free of charge and open for all interested) webinar on 26.11.2020 to present and discuss business models and technological solutions relevant for block of flats buildings. We will focus on Southern Finland and St. Petersburg.
Registration is open till 25.11. We will provide the link (Microsoft Teams) to all registered latest at 9:00 on 26.11.
Programme:
13:00 – 13:05 Opening and participants introduction round, moderator, Evilina Lutfi, GNF
13:05 – 13:20 Overview on types of business models and existing practices –  ESCO, EPC, Leasing and Concession Agreements – in Finland and Russia (St. Petersburg), Evilina Lutfi, GNF 
13:20 – 13:35 ESCO experience from St. Petersburg – modernisation of heating system, Nikolai Pitirimov, Non-commercial Partnership "House Property Owners Association" 
13:35 – 13:50  New implementation model and tools for start-up of EPC projects, 
Liv Randi Lindseth, Managing director, LinKon AS 
13:50 – 14:05 Heating energy saving solution from Finland – variable air volume ventilation system TOPAIR, Aki Pohjalainen, Entos Optimisäätö Oy
14:05 – 14:20 Energy storage solution from St. Petersburg – indoor battery installations, tbc
14:20 – 14:35 Hybrid energy solution – patented OptiSun is a new solution tbc Kymi-Solar Oy
14:35 – 14:50 Energy savings and carbon footprints from different types and ages of buildings – study from St.Petersburg, Anna Prokofjeva, Environment office KOSMOS LLC
Discussions, conclusions and closing of the meeting, by moderator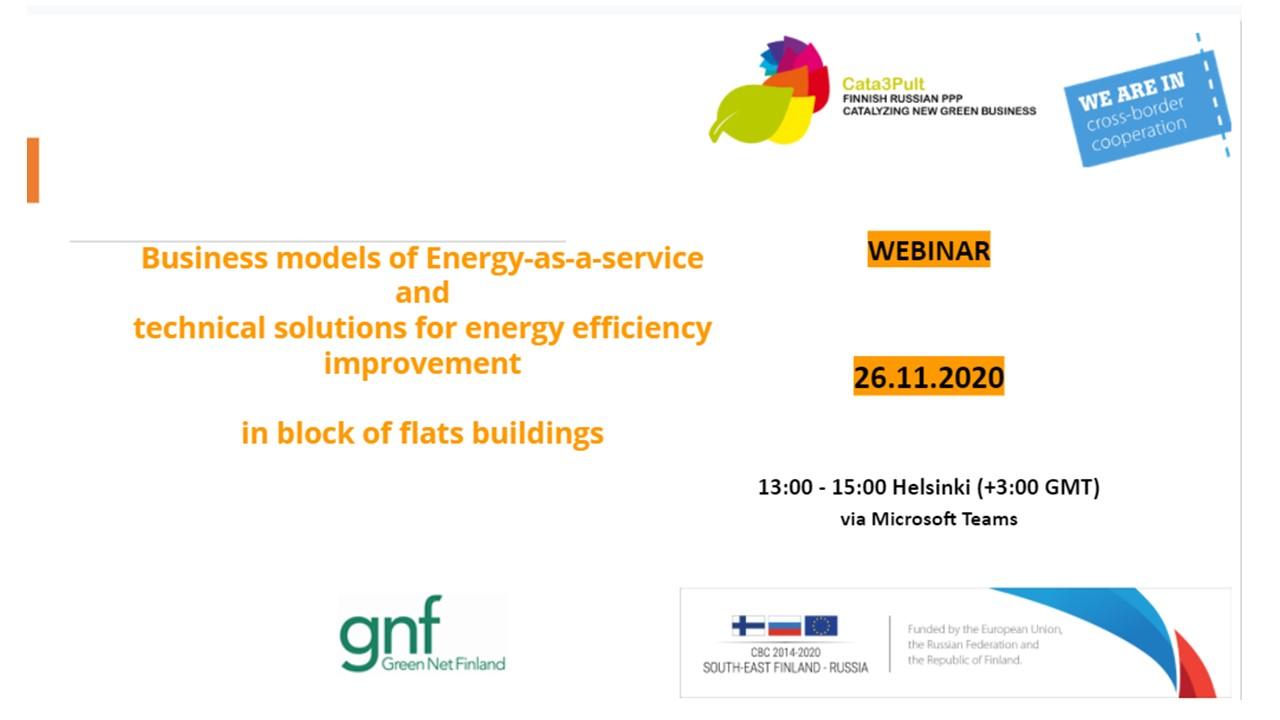 Contact for the link to the webinar: evilina.lutfi@gnf.fi