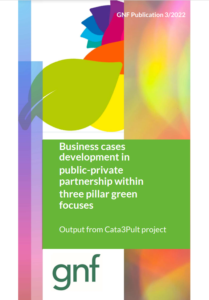 The publication Business cases development in public-pricate partnership within three pillar green focuses is available in open access in GNF's web-site here. The publication is output from Cata3Pult project. Cata3Pult name comes from: catalysing, 3 clusters in 3 regions, 3P – public-private partnership, 3 substance focus areas. Three project partners of Cata3Pult are managing organisations of three regional cleantech clusters.
Three pillar green focuses or substance focus areas of Cata3Pult are:
Eco- and energy-efficiency
Smart and green mobiliy
Circular economy
This publication opens and describes the implementation story of Business Cases development work of Cata3Pult during the period of time June 2019 – November 2022.